Visualizing Air Pollution
In 2016, the World Health Organization (WHO) estimated that over 90% of the world's population was living in areas that failed to meet its Air Quality Guidelines. Ambient air pollution was estimated to cause 4.2 million premature deaths globally.1 Air pollution is an invisible and silent killer. How can we combat the threat it poses?
Professor Bo Huang, a professor of the Department of Geography and Resource Management and Deputy Director of Institute of Space and Earth Information Science of CUHK, has developed a mobile application 'TouchAir' with his team. This provides real time forecasts on air quality in Hong Kong and mainland China and provides appropriate health advice. Users can check the information on the app anytime and anywhere, and stay away from high-risk areas.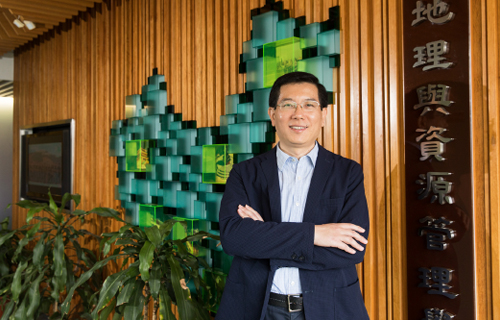 The Environmental Protection Department (EPD) currently updates its Air Quality Health Index on an hourly basis. The index provides Hong Kong residents with information on the potential health risks from local air pollutants. However, Hong Kong only has 16 air quality monitoring stations, which cannot reflect localized variations in air quality. The 'Spatio-temporal statistical model' and 'Remote sensing image fusion technology' developed by Professor Huang integrate satellite imagery data on topography, weather information and traffic conditions with the base data on pollutants provided by the monitoring stations. This additional information complements the data available from EPD, enabling a more accurate estimate of the air condition at any particular point to be made. By combining these two sources of information, Professor Huang explains, complex environmental data can be precisely forecasted. With data from a few monitoring stations, the air quality anywhere in Hong Kong can be estimated. Annual, seasonal, monthly or daily conditions can also be projected.
'TouchAir' is now able to show real-time concentrations of six major types of air pollutant: fine suspended particles (PM2.5), respirable suspended particles (PM10), nitrogen dioxide (NO2), ozone (O3), sulphur dioxide (SO2) and carbon monoxide (CO). Users can predict the total amount of pollutants they are likely to inhale on their planned itinerary and select a route with the best air quality, thereby avoiding prolonged exposure to air pollutants where possible. The app also allows users to assess the air quality anywhere in mainland China, enabling them to take air pollution health risks into account when planning sightseeing or business trips in mainland China.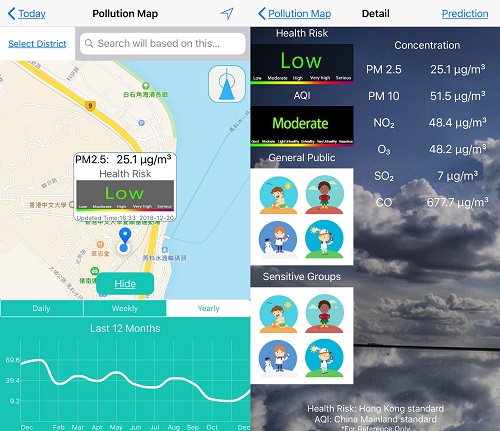 In the next phase of 'TouchAir', Professor Huang will add a new function on Indoor Air Monitoring. The development team has already finished an estimation model on Indoor Air Pollution Index. It is now studying how to combine this model with Cloud Computing Technology and merging them with the current app, so as to lower data management costs and improve computing efficiency. After the new function is introduced, users will be able to conveniently check both indoor and outdoor air quality anywhere in Hong Kong and mainland China, whenever they wish.
The development of 'TouchAir' helps to address the health risks associated with air pollution, thereby meeting the UN's third Sustainable Development Goal (SDG): 'Good Health and Well-being'. Professor Huang expects 'TouchAir' to assist in Hong Kong's transformation into an intelligent city. The app can cooperate with the 'multi-functional smart lampposts'2 recently introduced by the government, and increase the accuracy of estimates from their current 80% to 90%. He also hopes to promote the use of the app in other parts of Asia with serious air pollution, so as to provide better data to inform government policymaking. This would align with the UN's SDG Goals 11 and 17: 'Sustainable Cities and Communities' and 'Partnerships for the Goals'.
The 'TouchAir' mobile application utilizes an artificial intelligent statistical model to deduce the air quality at any location in Hong Kong and mainland China, providing a real time air pollutant index and health advice. Users can then select a route with the best air quality, thereby avoiding prolonged exposure to air pollutants. The app was awarded a Bronze Prize earlier in 2018 under the Hong Kong Information and Communications Technology (ICT)'s Smart People Award (Citizens Data Applications).
The UN SDGs mentioned in this article include: