MoCC Ambassadorship 2019/20: General Information (For CUHK Students)
What is MoCC Ambassadorship?
The MoCC Ambassadorship recognizes and provides financial support for outstanding CUHK students who wish to intern in the MoCC to raise climate change awareness and promote sustainability on and beyond campus. MoCC Ambassadors undergo knowledge training in climate change, sustainability and museum operations.
Each MoCC Ambassador is required to pursue, under supervision, experiential learning that carries educational benefits for the Ambassador and are relevant to the MoCC's operational and outreach activities.
Details of the requirements and financial support of the MoCC Ambassadorship are outlined in the programme flyer. When the students graduate from the ambassadorship, each of them will be awarded a certificate of completion. The ambassadorship may be renewed for another academic year upon demonstration of excellent performance and the availability of funding.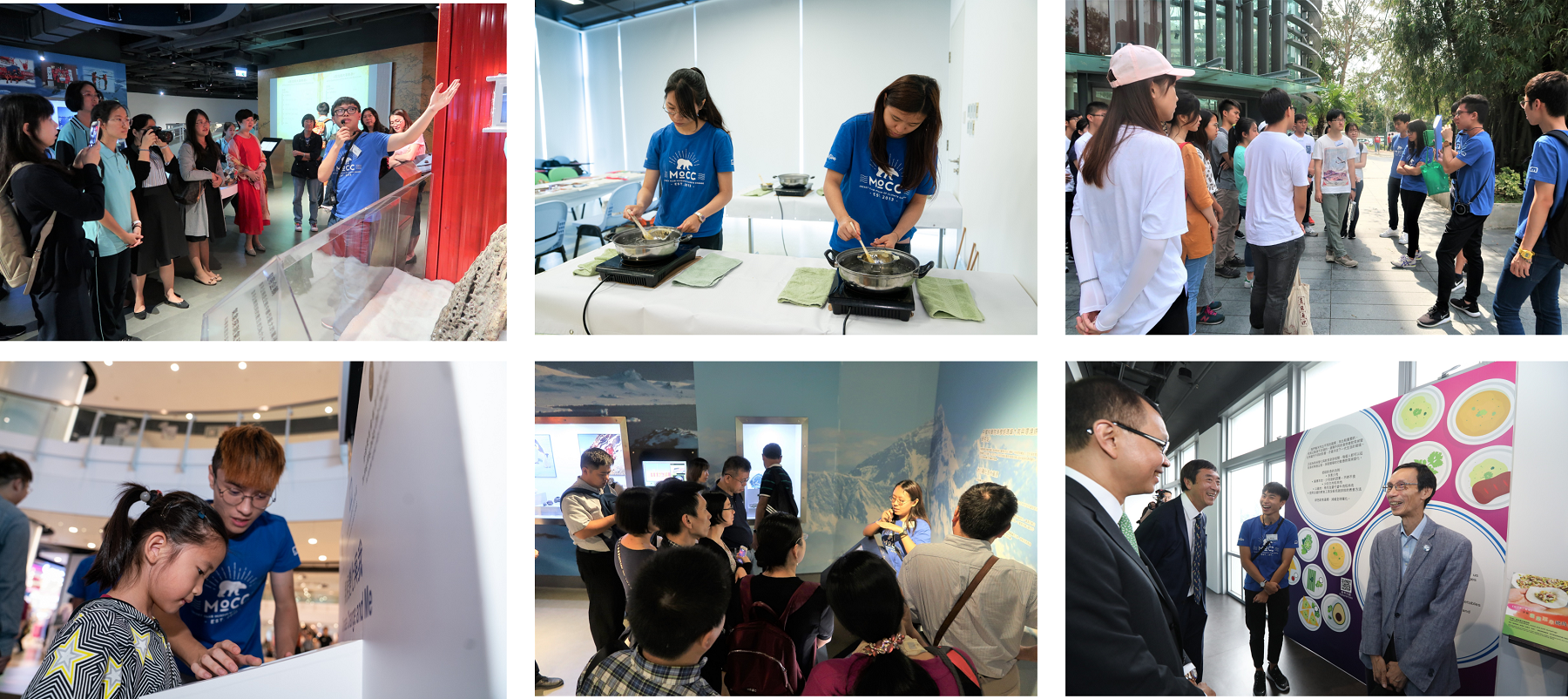 Who may apply for the Ambassadorship?
Applications are open to all undergraduate and postgraduate students of CUHK. Students in related fields (major or minor), such as sustainable development, earth system science, museum studies, geography, environmental technologies, environmental science, anthropology or those who have a track record in participating in environmental services, may be given priority.
The latest round of recruitment is closed. Stay tuned for the next round in summer.
What are the expectations?
The MoCC Ambassadors are required to:
Knowledge training: attend all sessions of knowledge training (see 'What are the important dates?' below) which include sessions of mock and pilot museum- and eco-tours
Experimental learning: intern in the MoCC by serving in shifts to guide visitors on MoCC tours and to answer museum-related questions from the visitors
Be encouraging and welcoming to visitors
Assist in conducting impact studies pertaining to MoCC exhibitions and eco-tours
Be able to guide the campus eco-tours
Discuss and, if necessary, update the contents of the eco-tours
Assist in organizing MoCC events such as workshops, seminars and campaigns
Be peer mentors of Team MoCC members (secondary school students)
Represent the MoCC on occasions of museum and university events and ceremonies
Participate in monthly meetings (see 'What are the important dates?' below)
Be punctual in all meetings and duty assignments (no absence without prior notice is allowed)
What are the important dates?
Deadline for Application
9 February 2020 (Sunday)
Selection Interview
20 or 21 February 2020 (Thursday or Friday)
Training and Meetings
Being rescheduled due to COVID-19. Current and prospective ambassadors will be contacted for further information.
---
Questions?
Questions are welcome and should be directed to Ms Samantha Chui on 3943 3012 or by email at samanthachui@cuhk.edu.hk.