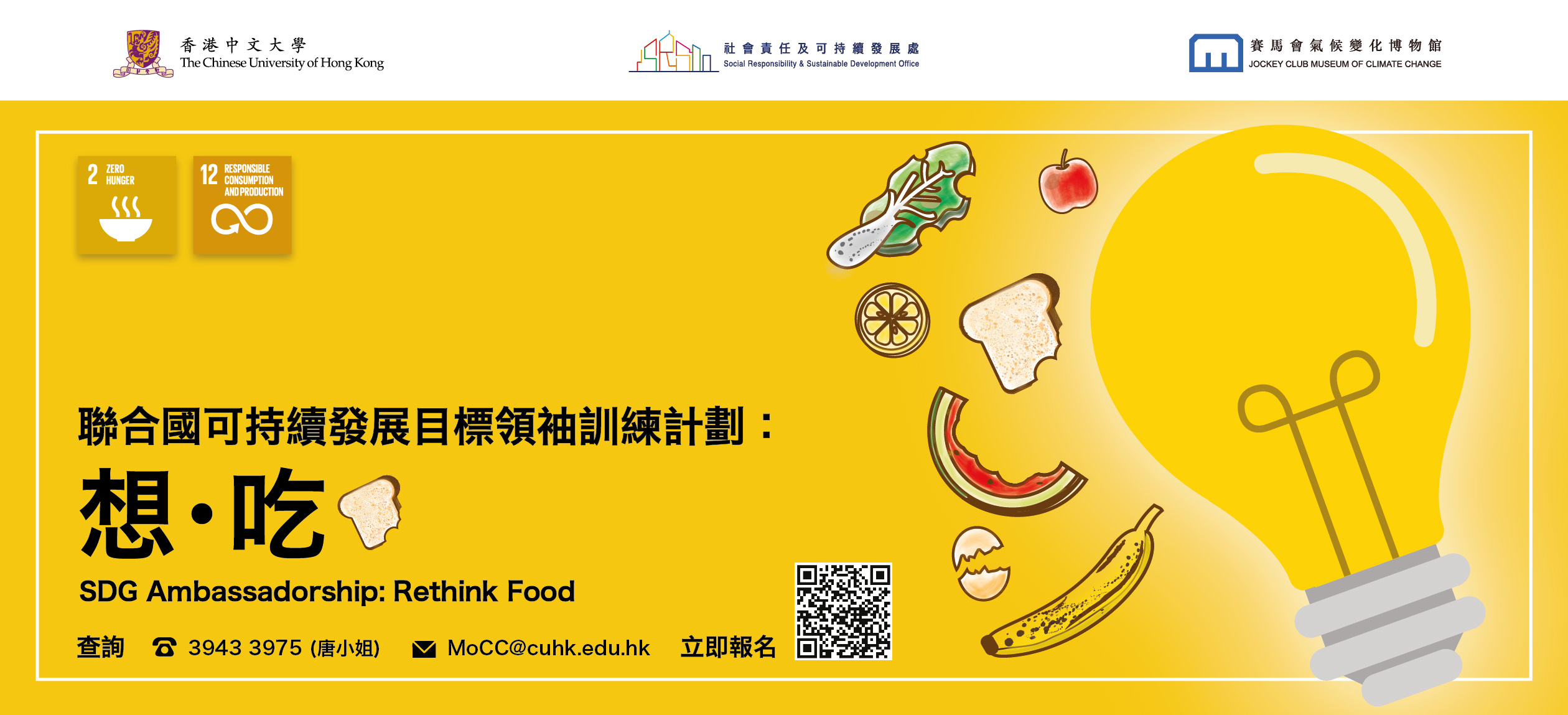 Introduction
To achieve a better and sustainable future, the United Nations adopted the 17 Sustainable Development Goals (SDGs) in 2015. Hunger and food waste are two major challenges, among others, we face today. According to the Food and Agriculture Organization (FAO) of the United Nations, around 14 percent of food produced globally is lost after harvesting and before reaching the consumers, while approximately 17 percent of food is being wasted at the consumer level. Even so, nearly 10 percent of the world population is still suffering from hunger.
In Hong Kong, one third of the municipal solid waste comes from food waste. Turning the situation around requires a rethink of how we produce, consume, and share food, as well as what constitutes a sustainable lifestyle. In response to the issue, the Jockey Club Museum of Climate Change (MoCC) of The Chinese University of Hong Kong (CUHK) organizes the 'SDG Ambassadorship: Rethink Food' programme, with an aim to engage participants in a comprehensive educational programme to explore the notion of food consumption, its related social and environmental issues in Hong Kong, and to develop creative solutions to the problems.
Objectives
To promote the SDGs of the United Nations
To cultivate behavioural change in food waste reduction and upcycling
To guide students in developing innovative ideas and problem-solving skills
To encourage students to share the idea of sustainable consumption with their friends and families
Themes
SDG
Topics
SDG 2: Zero hunger
Hunger and food waste
Communities that are particularly vulnerable to hunger
Food security and sustainable agriculture
SDG 12: Responsible consumption and production
Food production and consumption
Food waste generation and management
Food date labelling

Programme components
Learning about the SDGs of the United Nations
Visiting a sustainable farm that deals with food recycling with black soldier flies
Participating in food saving and re-distribution activities
Participating in food upcycling activities
Learning design thinking skills
Designing and implementing a food waste reduction campaign on campus
(Please refer to programme details (Chinese version only))

Target participants
S3 – S6 students


Quota
8 schools. Each participating school shall nominate a team of 4 students to join the programme.


Enrollment
Please complete the online application form (Chinese version only) by 21 December 2022 (Wednesday). Applications are accepted on a first come, first served basis.

Fee
Free of charge
Participating schools are required to submit a refundable deposit of HK$1,000 after confirmation of enrollment. The deposit will be refunded upon completion of the programme.

Key dates
Date
Deadline of application
21 December 2022 (Wednesday)
Training and education activities
4 February 2023 (Saturday)
11 February 2023 (Saturday)
18 February 2023 (Saturday)
Food waste reduction campaign
March 2023 to April 2023
Submission of report
April 2023
Programme Language
Cantonese supplemented with English
Enquiries
Annie Tong (3943 3975;annietong@cuhk.edu.hk)